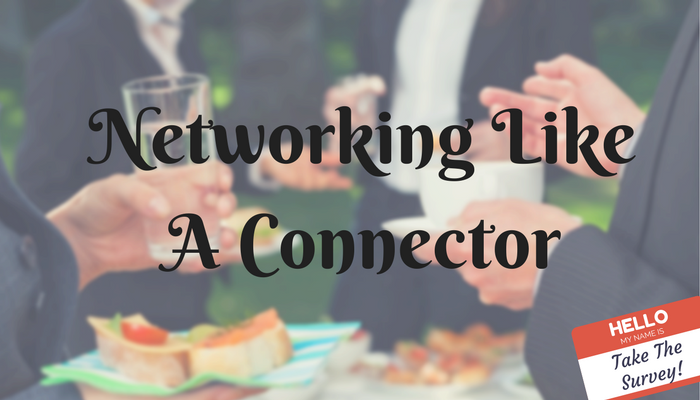 This week we are excited to have this guest article by Michelle Tillis Lederman, (www.michelletillislederman.com), author of The 11 Laws of Likability, Heroes Get Hired, and Nail The Interview, Land The Job. Michelle is the founder of Executive Essentials, a training company providing communications and leadership programs.
Are you connector? How do you know? These are the questions Michell
e is asking!
She's currently
working on a book to look into what it is that makes connectors… connectors!
Do you have a few minutes to help find these answers? Complete her
10-minute

survey
to be a part of this exciting research project. O
nce the book is released, you'll be able to see your contribution in action! Not to mention, you'll learn more about YOU!
What do you think of when you hear the word "networking?" Events you feel you should attend, even though you don't want to? Initiating forced conversations with strangers? Maybe even exchanging business cards with someone, and then not knowing quite how to follow up?
It's time to think about networking in a different way. To me, networking shouldn't be work. I think of it as just making friends and call it "relationship networking." In my book, The 11 Laws of Likability, I focus on the 11 Laws that you can follow to make networking a more authentic, enjoyable, beneficial experience.
Enjoyable is a start, but what is more relevant to all the business development people out there is to understand this simple fact: people do business with people they like. Research shows this holds true even if there is a better or cheaper product, the relationship wins the client.
Relationship networking is based on three mental shifts about networking:
From business to anything. Think differently about how you're getting out there and who you're connecting with. It doesn't have to be all industry and recruiters; it could be a neighbor, a fellow hobbyist, or parents at your kids' schools. This way, you already have things in common and you can leverage the Law of Similarity to strengthen the relationship.
From now to long term. This is the best part about networking during a recession. Add value to your network when they need it and it will be there for you when you need it.
From you to them. Instead of focusing on what you're trying to get or what you need from the other person, think about what you can give. The Law of Giving is the single most important.

To practice this kind of networking you build relationships while you're doing the things you want to do and in the places where you naturally are. It's not about adding to your business card quota. It's about adding value to your relationships; this is the mindset of a connector.
How anyone can network like a connector is the foundation of my next book, The Connector's Club: Why Members Get All The Perks and How To Become One.
For this book, I want more than theory; I want data. That's where you come in! I have created a survey that is designed to help me understand the anatomy of a connector. Whether you believe you are a connector now or not, you can help. I need to hear from you (especially if you are not yet a connector). Be a part of the research by investing 10 minutes to take the survey. I provide you a working definition in the survey. One attribute of a connector is they seek to add value to their relationships. If you want to start incorporating the behaviors of a connector into your networking, here are three easy ideas for adding value.
1 INTRODUCE. Connecting two people is extremely valuable and typically beneficial to both parties. Let them know why you are putting them in touch. If the introduction is one-sided, be sure to ask permission first.
2 INVITE. Send an invitation about an event you are going to or even one you aren't. Let them know why you think they might be interested. You can also create an event.
3 INFORM. Provide them with articles of information you think they will find valuable. It can be a review of a restaurant you both enjoy or a piece of business news. You are not just sending information; you are letting them know you were thinking about them.
Redefine the way you approach networking not only in times when you are in need, but all the time. You will find Relationship Networking easier, more enjoyable and you will develop stronger, longer lasting relationships.
Remember, it's not about you. It's about the relationship.
Michelle has appeared on CBS, NBC, Fox 5, and over 100 radio shows nationwide including; Gayle King, NPR, and Martha Stewart Living. She has been quoted in the New York Times, Working Mother, US News & World Report, and Monster.com among others. Her book, articles, quizzes and videos have been featured on USA Today, AOL, Forbes, CNBC, and About.com. She received her BS from Lehigh University and her MBA from Columbia Business School.
Connect with Michelle at Twitter: https://twitter.com/mtlederman or Facebook: https://www.facebook.com/MichelleTillisLederman
Social media Links:
Websites: http://www.michelletillislederman.com/ , http://www.11lawsoflikability.com
http://www.executiveessentials.org/ and http://www.heroesgethired.com/
Blog: http://www.michelletillislederman.com/blog/
LinkedIn: http://www.linkedin.com/in/communicationexpertspeaker
YouTube: http://www.youtube.com/user/MichelleLederman