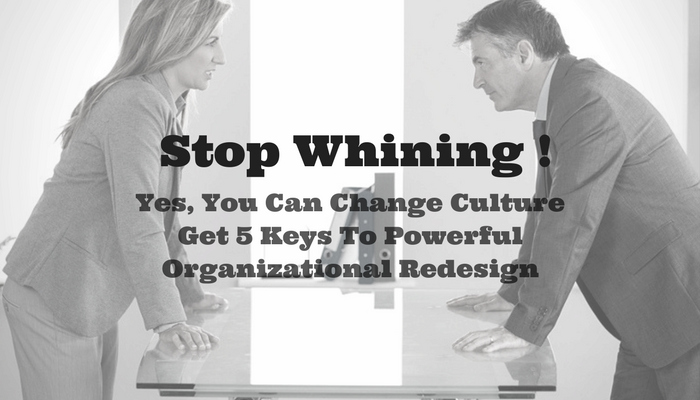 Co-authored by Steve Stanton and Frank Wander
Oh, culture change is hard…
And it takes a very long time…
And we don't agree on what culture actually is…
And besides, shareholders don't really care about culture, only quarterly profits matter to them.
On and on it goes. The complaints about culture never seem to end. Like the weather, everyone talks about it, yet few do anything real about it. But the truth is you don't need a weatherman to change culture. It's been done many times before. And quickly. But the key to changing culture lies not in addressing behavior itself, but with aggressively changing the basic organizational model itself; because this Enables the emotional experience.
In other words, you must change culture by making the soft stuff hard.
This key insight comes from a wonderful quote from Richard Pascale, the author of "Surfing on the Edge of Chaos",
"Adults are much more likely to act their way into a new way of thinking than to think their way into a new way of acting."
Therefore, paradoxically, the key to dramatically changing culture is through powerful organizational redesign. And strangely enough, the path to engagement lies in aggressive and thoughtful enablement in the following five ways.
1. Unlocking Empowerment, the opposite of control
Creating bigger jobs with more decision-making autonomy as several consumer product companies have done in giving their CSRs an expanded ability to make decisions on their own

Shrinking wasteful management layers and expanding spans of control and altering the role of managers and supervisors from baby sitters to capability developers
2. Unlocking Feelings of Achievement through Reward

Redesigning compensation to give more employees more skin in the game by expanding bonuses and options

Empowering coworkers to recognize one another thereby increasing feelings of Recognition, Respect, and Influence

3. Unlocking Meaning to Drive Passion by providing an emotional connection, or personal growth
Educating all employees on how the organizations works to provide a business context for everyone

Redefining management work from baby-sitting to skill development

Designing robust feedback metrics so everyone can learn

Making the organization's mission clear, obvious and true



4. Creating a Motivating Vibe
Automating brain-killing repetitive tasks (which drains the vibe away)

Providing funds for improvement experiments to encourage risks and learning (risk taking is a high vibe activity)



5. Invest in your human assets
Spend real money on training, especially reskilling for data intensive work

Cross train employees to gain agility
So, stop whining and start redesigning.
About Steve Stanton
Steve is the author of the recently published book, "Smart Work: Why Organizations Full of Intelligent People Do So Many Dumb Things and What You Can Do About It." He is a pioneer of process innovation. For thirty years his work has been focused on improving the capability of organizations to transform themselves. Mr. Stanton is also the co-author, with Dr. Hammer, of "The Reengineering Revolution" (HarperBusiness) and the Harvard Business Review article "How Process Organizations Really Work." Mr. Stanton holds an MBA from Harvard and a BA from the Berklee School of Music.
About Frank Wander
Frank Wander, a former turnaround CIO, is founder and CEO of PeopleProductive (peopleproductive.com), a workforce productivity company that helps customers get the best out of their people. PeopleProductive is Talent Management Reimagined®.
He is also the author of Transforming IT Culture: How to Use Social Intelligence, Human Factors and Collaboration to Create an IT Department That Outperforms (Wiley Publishing). This unique book is the very first operator's manual for the human infrastructure, and will help you successfully transform your leadership style and your organization.
A message from the PeopleProductive team:
We're thrilled to have your interest in our work and we invite you to join our mission of creating work places where the people as well as the company, both flourish. We welcome your support and participation. To find out more about this just reach out to us here!"